05 Nov

The small pleasures of teaching…

It was a drizzly Saturday morning and I was all set to take class at my centre Karpagavalli Vidyalaya School, Mylapore. I handle a batch of naughty cute juveniles. The class began with an activity where some words would be written out on the blackboard, the kids were supposed to read them aloud and form sentences using each word. This was basically to test if the kids can read words in English. To my surprise the entire bunch was brilliant!!

While the class was going smoothly I noticed a little boy (the tiniest of all) who was trying to imitate me. For a while, I ignored him, but later I had to warn him. Despite my warning, he continued, so I finally had to punish him by sending him out. It is a rule in my class that all those punished will have to remain silent for 15 minutes to rejoin their buddies.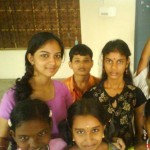 It was past time and I called the little boy inside, but he refused to! When I went to him and explained why he was punished, he did not say a word! I began to worry as I didn't want him to feel disturbed and develop an aversion towards me, because I knew he always wanted to be in my class. I sent a couple of his friends to convince him but he still stood like a stone. Having known him for nearly five months now, I knew that he sought attention. So, I decided to leave him alone and continued with the class. I noticed that every now and then, he would cutely peep in to see what's going on and when I'd look he'd hide away. This hide and seek game went on for a while after which I noticed he just sneaked in like a small rat into the class and sat at his place. I was in tears of joy when he told me that he didn't want to miss the class and the activity that we were doing.
Towards the end of the class he was asked to make a sentence with the word "so" and the sentence he made was "I was talking in the class and so my teacher punished me." I was in high spirits after hearing that and realised that I am in the right place doing what I love.
I grab this opportunity to thank Bhumi once again for letting me have such wonderful memories. I hope all those passionate about teaching and "Making a Difference" have such motivating experiences in their classes too because the feeling I am undergoing cannot be explained in words! Also my passion towards teaching is burgeoning with such small incidents in class and I am gaining a lot of positive energy, which is in turn helping me give the best! 🙂
– Preethi Shankaran